Housing Loans Difficult for Most Northwest Arkansas Minorities
NOTE: This story is part of a package on mortgages, race and database journalism. Read the sidebar in the package here.
FAYETTEVILLE — Christina Woods, a 29-year-old doctoral student at the university, is planning to buy a home in Northwest Arkansas soon. The move will be a milestone for this Native American and her family, who struggled with poverty and the legacy of tribal displacement 100 years ago.
"That's a big deal because I'm 29 years old, and I have collateral, and nobody else in my family has anything like that," said Woods, a member of the Cherokee Nation.
About 32 percent of Native Americans who applied for home mortgage loans in Northwest Arkansas were rejected in 2015, the highest denial rate of any race or ethnicity in the region. It is well above the 17 percent rejection rate for white borrowers, according to 2015 Home Mortgage Disclosure Act loan records. The data analysis was conducted by students in the Walter J. Lemke Department of Journalism at the University of Arkansas under the direction of Prof. Rob Wells, an erstwhile reporter for Dow Jones/The Wall Street Journal, Bloomberg, and the Associated Press.
Rejected mortgage applications appear to align with low household wealth, according to the data analysis. Native Americans (32 percent rejection rate) and Marshallese (27 percent) have household incomes well below the 2015 median income of $49,147 for the metropolitan area as delineated by the U.S. Census Bureau, home to some 515,000 people living in Benton, Washington, and Madison counties in Northwest Arkansas and McDonald County in southern Missouri. Native Americans have among the lowest median family income in this region at $32,770, while Pacific Islanders including the Marshallese have the lowest at $31,178, according to census data.
Other factors leading to mortgage rejection involve poor credit scores and educational problems, according to the data as well as interviews with community members, credit counselors and bankers. Some of those interviewed believed racism is a factor in the high denial rates, but interviews and research didn't support this. Even some minority real estate agents, such as Julia Valenciana of RE/MAX, said she had not seen evidence of discrimination in the region's mortgage lenders in her 16-year career.
Cultural factors play a major role in whether someone gets a loan or is rejected.
"Where a young family in mainstream America may go to college, get married, buy their own home and start building their credit, young Native American people don't have those same opportunities," said Joanna Donohoe, a partner at Seven Sisters Community Development Group LLC, a national consulting firm that helps low-income and minority communities.
Donohoe is a housing expert who works with Native Americans throughout the country.
"They may stay home to help take care of elders. They may not have as many opportunities because of education issues. A lot of them may be economically related, but could be cultural as well, and historical."
Asian borrowers appear to strengthen the interconnectedness of income, cultural support and approval rates. Asians in Northwest Arkansas had the lowest rejection rate at 16 percent and the highest household median income at $71,585. (Besides wealth, Asians are by far the most likely to hold a college degree, too: nationally, half of all Asian adults hold a bachelor's degree, and of those, about one in five have a graduate or professional degree, according to census data.)
The generational transfer of wealth, which depends both on cultural norms and individual family wealth and credit history, seems to have a clear impact on home buying, according to interviews with home buyers, mortgage lending experts and community leaders.
This is clearly the case in the black community, said D'Andre Jones, president of the Northwest Arkansas Democratic Black Caucus and chairman of the Fayetteville Civil Rights Commission.
"We end up obtaining wealth or making money, but since it's somewhat novel to us we don't learn the value of maintaining good credit and learning all of the procedures as it relates to buying a home," Jones said.
About 22 percent of African-Americans were rejected for mortgage loans, and this group has a median household income of $37,583. That rejection rate to median income reflects the rates for whites, who, as a demographic, have a median household income roughly 34 percent higher than that of blacks — $50,225 — and a rejection rate five points lower at 17 percent. But Hispanics, the second most populous category of applicant after whites, experience a 25 percent rejection rate but boast a median household income of $39,807 in the region.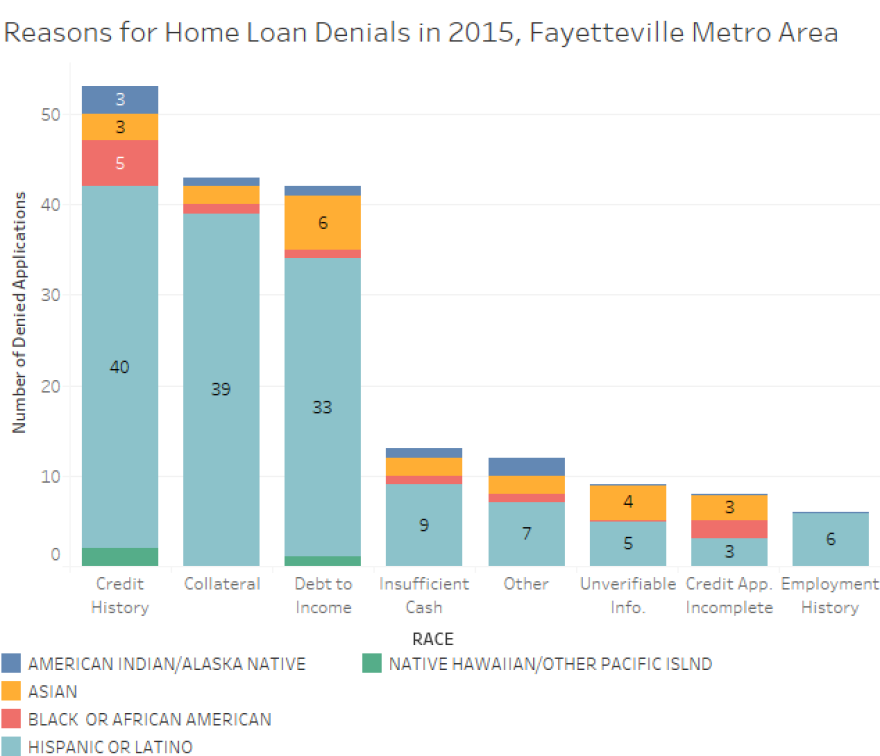 Stacy Leeds, dean of the University of Arkansas Law School and a member of the Cherokee Nation, said research links lower incomes with lack of education. In the 2014-2015 school year, 67 percent of Native American students graduated from high school, and Bureau of Indian Education schools have an even lower graduation rate at 53 percent, compared to the national average rate of 80 percent, according to a 2014 Native Youth Reportfrom the White House.
Like many Asians, Mohammed Khaja enjoyed family support in his quest to buy a home, a contrast to many in the Native American community. Khaja, who now works as a research engineer at Picasolar, moved to Fayetteville from Hyderabad, India about 10 years ago to earn his master's in electrical engineering at the University of Arkansas. His wife, Shaik Tahareem, moved to Fayetteville one year ago, and Khaja thought it was time to look for a house, he said. His father, who still lives in India, was the first to suggest buying a home.
"He instigated all the ideas to me," he said. "He was ready to send the money for me to cover the down payment as well. So, he is very supportive I would say. Usually, I would say that is the same case in all of India: the parents will support the child to buy a house."
Seong Kang, a poultry science researcher at the University of Arkansas, bought a house in Springdale last year. He said cultural norms within the Asian community made the home buying much easier.
"Asian people, in my case from South Korea, have a lot of support from parents when we try to buy a home here," he said. "In my case, my wife had some inheritance from her parents … when I tried to buy a house, they sent money."
Some in the Marshallese community are not as fortunate. Policarpio and Gertrude Navarro did not have any inheritance to help them along in the process of buying a home. They bought their home in 1999 after moving their three children from the Marshall Islands to Hawaii. They moved to Springdale to find a doctor to treat their oldest daughter's heart murmur.
The Navarros saved up money in the islands before moving to the United States and bought a house for $104,000. They said Marshallese people who have more children might encounter more problems making their down payments.
"They can't afford the house," Policarpio Navarro said. So, he imagines, they will opt for a rental or an apartment. Of course, rentals in the area are increasingly expensive, he said.
The most frequent reason for home loan application denials in Northwest Arkansas was credit history, according to the Home Mortgage Disclosure Act data, also known as HMDA data. That didn't surprise Woods, the University of Arkansas doctoral student.
"It absolutely makes sense — we are a group of people that was displaced over 100 years ago," she said. "If you drive through Oklahoma where everybody's family lives, where my family lives, people still live in poverty." Nationally, one in four Native Americans lives in poverty, according to a 2014 Pew Research Center study.
Only 13 percent of Native Americans and Alaska Natives — a grouping established by government statisticians — hold a bachelor's degree or higher compared to the 28 percent for the general population, according to the U.S. Census Bureau's 2006–2010 American Community Survey. Woods is part of the 4 percent of Native Americans earning an advanced degree; she is a doctoral student and an academic adviser in the Agriculture Food and Life Sciences department at the University of Arkansas.
Both tribal and federal programs assist Native Americans with home purchases, but none living in Arkansas qualify because there are no federally recognized tribal or trust lands in the state. Despite the high loan rejection rate, some 54 percent of Native Americans in Northwest Arkansas own homes — overall, it's 63 percent. Native Americans make up about 1 percent of the population, according to the census.
On trust land, Native Americans can also struggle with buying a home, which can be difficult because "collateral is a little more complicated," Donohoe said. Banks usually have to make a type of customized loan to address these collateral issues of communal ownership on tribal lands.
These customized loans are hard to resell in the mortgage market since they don't meet standardized loan underwriting criteria.
"So, in many cases, you will see lower rates of homeownership because of the land status," Donohoe said.
While those living off reservations may find it easier or less complicated to use their lands as loan collateral, people like Woods would also not be receiving the same kind of federal and tribe-based assistance they could get on the reservation.
"You're kind of in a catch-22 because a lot of the programs that do outreach to those folks, who would usually help a first-time homebuyer or someone in a low-income area, they may not target Native people because there is this assumption that a tribe is taking care of them," Donohoe said.
"But in many cases the tribe says, 'Well you're not on the reservation. We're not serving urban tribal members.' So in some cases, those folks fall through the cracks."
Woods' family has precious few advantages in the quest for homeownership. Her mother was once homeless. She now lives in the first permanent home anyone in her family has had since Native American removal. Woods owns about three acres of land that once belonged to her father. Although the tract is small, she'll use it as collateral when she buys her first home.
Academically and economically, Woods has gone far, but she's still pretty close to home. Gentry, about 45 minutes outside of Fayetteville and near the Oklahoma-Arkansas border, was where she grew up. Her Cherokee heritage can be traced back to northern Georgia, where her ancestors lived before they were displaced by Andrew Jackson's administration.
"We had a farm, we grew crops, we had homes, we had taverns," Woods said. "There's nothing once we get to Indian Territory. Nobody has anything. We lost our land to taxes because we couldn't afford to pay the taxes."
Now, some 180 years after Jackson signed the Indian Removal Act, young Native Americans such as Woods can move forward. Last fall, she met with real estate agents. They recommended she obtain a USDA Rural Development Guaranteed Housing loan, more commonly known as a USDA loan, to fit her salary.
Although Woods is still researching ways to pay for her new home, which listed for $130,000, she is looking forward to establishing her own family home with her husband.
"I want it to look cute and homey, that's important to me," Woods said. "I want to buy a house that I can stay in for a long time."
Additional reporting by Quincy Ward, Taylor Pray, and Haleigh Ball. This story was edited by Rob Wells, Julia Tripp, and Arkansas Public Media.
Arkansas Public Media is a statewide journalism collaboration funded in part through a grant from the Corporation for Public Broadcasting, with the support of partner stations KUAR, KUAF, KASU and KTXK and listeners and members of the public.