Marshallese Leader, International Peace and Climate Diplomat Dies
Tuvala native and noted Republic of the Marshall Islands political leader, Tony de Brum, died Monday in the capital city of Majuro. De Brum is also widely recognized as a global nuclear disarmament and international climate change treaty negotiator.
De Brum often traveled from the Marshall Islands to the Arkansas Ozarks, where an estimated 13,000 Marshallese migrants are now settled, to visit family and friends and take advantage of employment, educational and health care opportunities.
Marshallese are able to freely travel and live anywhere in the U.S. for as long as they wish with only a passport because of de Brum's enduring political efforts.
In the late 1970s, he helped secure independence for the Marshall Islands, then a trust territory of the U.S., and later negotiated a Compact of Free Association which conveys special migrant status to the population.
In one of many interviews for NPR-affiliate KUAF-91.3 in Fayetteville, de Brum, in 2014, described how climate change was beginning to ravage his homeland.
"People are talking about climate change as if it's in the future, coming at the end of the century. In our case it is already happening. We have islands that have disappeared in the last two decades. We have extreme drought and flooding, coral bleaching and the erosion of shorelines."
When he was a small boy in 1954 fishing with his grandfather, De Brum witnessed detonation of the "Bravo Shot" on Bikini Atoll, the largest of 67 thermonuclear and atomic atmospheric weapons tests conducted by the U.S. in the mid-20th century.
Wherever he went, de Brum shared that history so the world would not forget.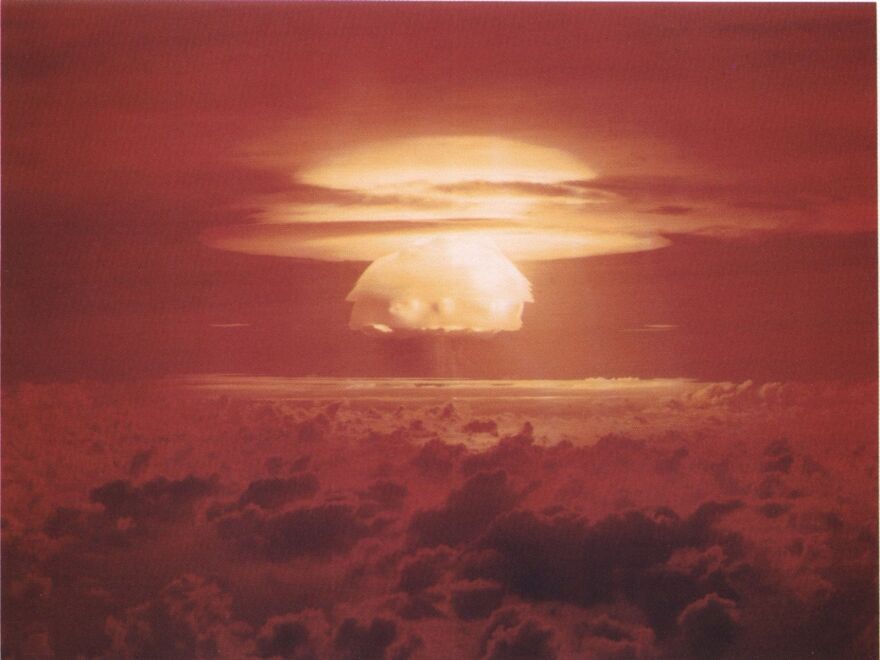 "My country was the site of some of the most horrific nuclear tests the world has ever known ... and we have people who cannot return to their homelands now because of the continued missile testing."
Under the Compact of Free Association, the U.S. maintains strategic military operations on Kwajalein Atoll, conducting long-range ballistic missile tests using the Marshall Islands as a target range.
As Foreign Minister of the Marshall Islands from 1979 to 1987, de Brum continually fought for full financial compensation and reparations for atomic bomb test victims and descendants.
In the early 1980s, the U.S. awarded affected Marshallese $150 million dollars in compensation, which de Brum continually decried as "vastly inadequate."
Towards the end of his life de Brum became a staunch international nuclear disarmament advocate. He traveled the globe holding nine nuclear weapons states, including the U.S., to task, and calling for global disarmament. For his efforts he was awarded the Nuclear Age Peace Foundation's 2012 Distinguished Peace Leader Award.
In 2015, the Right Livelihood Foundation awarded him the Nuclear-Free Future Award.
In 2016 he was nominated for the Nobel Peace Prize.
In announcing his death Thursday, Republic of the Marshall Islands President Hilde Heine described de Brum as a "giant of history."
A traditional ceremony to commemorate his life is being planned.
De Brum is survived by his father, his wife Rosalie, three children, 10 grandchildren and five great-grandchildren.
This story is produced by Arkansas Public Media, a statewide journalism collaboration among public media organizations. Arkansas Public Media reporting is funded in part through a grant from the Corporation for Public Broadcasting, with the support of partner stations KUAR, KUAF, KASU and KTXK and from members of the public. You can learn more and support Arkansas Public Media's reporting at arkansaspublicmedia.org. Arkansas Public Media is Natural State news with context.